Perfect Love Casts Out Fear
Lenten Season at St. Matthew's | February 17 - April 1
Lenten Wednesday Worship
Come and worship on Wednesdays in Lent at 7:00 PM on Zoom. 
Join Wednesday Worship
https://us02web.zoom.us/j/88594303408 
Meeting ID: 885 9430 3408
Dial in:  929-205-6099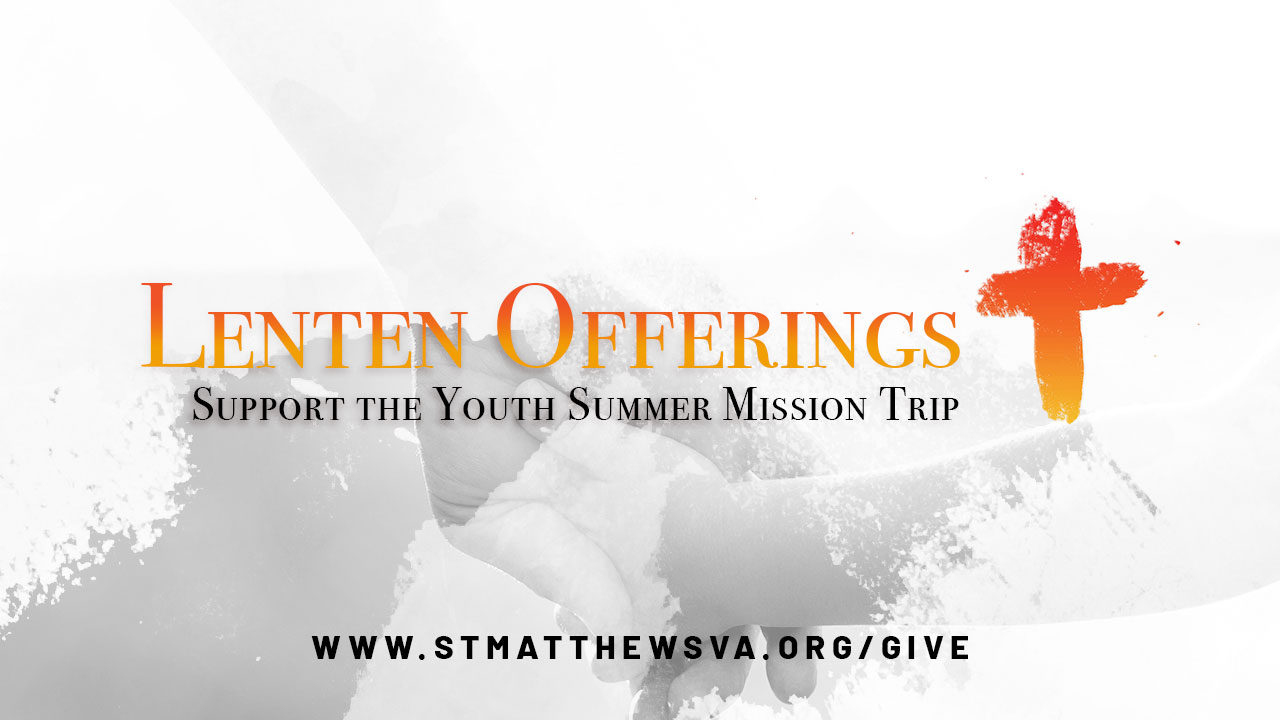 Support Our Youth Ministry
Special Offerings collected during Lent will be dedicated towards the High School Mission trip this year and the ELCA Youth Gathering next Summer.
The High Schoolers have provided Lenten devotions for the entire season of Lent, with a Spotify playlist and Bible verses for reflection and prayer. Over the course of several weeks during their meeting time, they worked hard to pair special music with each scripture passage and write the devotions together. They will also be creating the labyrinth for Good Friday! In response to the gifts they have offered this lenten season, you are invited to support the youth ministry so we can continue to develop the faith of our young people.  
Choose the "Lent-HS Mission Trip" drop down in Realm to dedicate your offerings, or write "Lent Special Offerings" on the memo line of your check. Thank you for supporting our Youth! Give now at StMatthewsVa.org/GIVE.
Faith Formation & Devotionals During Lent
PreK thru 5th Grade Children
Parents can pick up Lent at Home kits for your children on Sundays February 7 or February 14 from 11:00 AM – Noon. Watch the video to the right with more details from Pastor Emily about the faith-building activities within the kits!
First Communion Classes Being Offered During Lent
All who were in the classes we began in 2020 are invited back, as well as anyone looking to better understand the sacrament of Holy Communion and children participating in their first communion. We will be offering a Zoom class on Saturday, March 13 at 10:00 AM and an in-person class on Saturday, March 27 at 10:00 AM, held outdoors on the St. Matthew's campus. 
If you are interested in participating in these classes, please contact Pastor Emily.
Make a Prayer Chain
Make a prayer chain! Everyone is invited to make a prayer chain during Lent using purple and white strips of paper. 2nd-5th graders received them in their Lent-At-Home kits, we have extras for anyone who might want one, or cut your own strips to make your own! We invite you to write the name of a family, individual, or organization on a strip each day during Lent. 
Daily Devotionals Available on Facebook
Our Lenten daily devotions will be based on music and scripture this year following the theme of "Perfect Love Casts Out Fear".  Our high school students put together a Spotify playlist for all members to listen to throughout the Lenten season. Each day on Facebook and in our weekly emails, we will offer a song and scripture passage to reflect on.